Our expertise doesn't stop on
dispatch alone, we offer a full office
solution for your trucking business.
DISPATCH SERVICE FOR TRUCKING COMPANIES
We offer different options to help you run your business
While still keeping your existing dispatchers you can use our additional help to run your operations. That's a cost effective way to have more workforce on your team without further department of labor liability.
Popular option with existing dispatchers is using our specialists adding more power to locate and book loads. Don't forget you only pay commission, if there are no loads booked, you don't pay, nothing to lose.
Night or weekend shifts can be problematic to find willing candidates and often premium payment is required to fill the position. Time zone difference with one of our offices benefits you covering those shift with ease. 
Accounting for truck drivers is essential for anyone involved in this industry, but this is a significant topic for owner-operators or independent… Read more
Staying compliant on the road is very important and that means somebody has to monitor it. We have staff with experience developing Electronic Logging Device systems and can audit and advice your drivers.
We can customize any plan to offer our services for your best needs. Meaning you also have access to all of our resources including over 80 professionals specializing in different aspects of trucking industry.
OUR FLAGMAN BEST DISPATCH SERVICE
Haul more freight and access higher-paying loads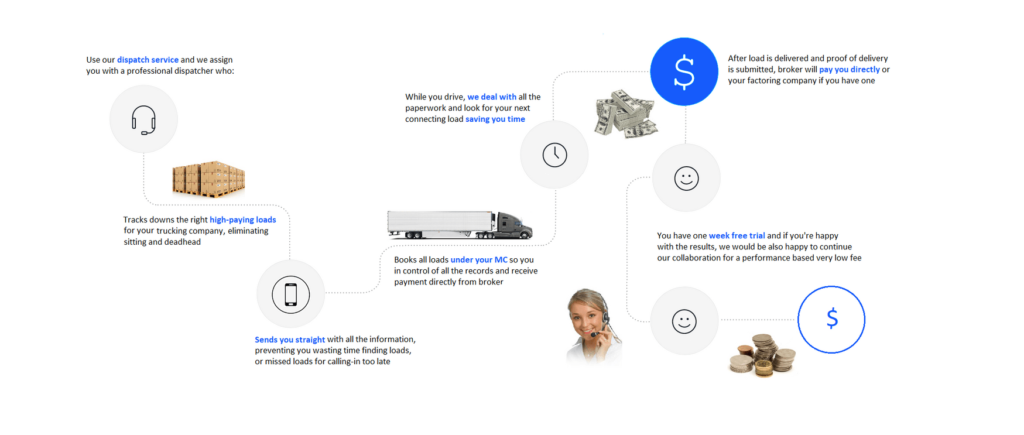 Our dispatchers have the time, experience, and knowledge to find the best paying truck loads so you can concentrate on the road or better yet, get some deserved rest before your next run. It is important for a driver to be well rested and energized to perform at his best. If you lose time looking for the loads yourself, even if you find a great paying load, the chances are you will not make far, since you did not rest resulting loosing more money in the long run. Also, please be safe all the time and do not try to search a load while moving. Stay professional and let our experts do the hassle of constantly monitor load boards, make phone calls, handle paperwork and conduct all the broker communication.
A trucking dispatcher is the title of the worker who helps to connects the customer with a driver in a dispatch service company. Dispatch consumer services cover a wide range of activities including advance dispatching services, freight dispatch service, truck dispatch services and other relevant dispatch services. Any truck load dispatch service will enable the company to connect the client's order with the right driver. The total dispatch service cost can be managed in a variety of ways. Additional tools are always being developed by various manufacturers to improve workflow management and coordinate various parts of the organization.
There are different kinds of vehicles, and they might be spread out in various locations. For example, national dispatch services are capable of connecting freight loads with the right kind of truck in the right location. Some dispatch subscription services are available to help reduce the overall cost of running the business. There are many types of dispatch services, and they can apply to other vehicles as well. Most of these local dispatch operations are modeled on the freight dispatch system. They generally will take the model and modify it to suit the needs of their particular industry.
WHAT IS A SERVICE DISPATCHER
A service dispatch is a series of actions that connect a customer's request for service or freight with a provider. In the case of freight service, this would be a truck driver of a particular type of vehicle. The service dispatcher may handle multiple requests including freight loads for flatbeds, dry vans, reefers and tankers. However, there are other service dispatchers that deal with other types of vehicles and services. This might include vehicles like taxis, fire trucks or courier contractors, for example.
Advance dispatching services improve the customer's experience overall by solving critical logistics issues. The freight dispatch service is responsible for connecting the client with the delivery professional. This is an essential service in many different industries; this includes retail, wholesale, office and medical providers. There are many other industries that require efficient truck dispatch services in order to operate within reasonable profit margins. These services are just one part of an overall network of supply chains that get goods to their destination.
The dispatch procedure originated in the vehicle-for-hire industries before becoming applicable to other services like electricians, plumbers, maids, HVAC and more. It can also be applied to other service providers. A dispatch service provider is a company that answers the customers' calls. The dispatcher engages the customer before connecting the service request with the appropriate driver or service provider. This professional can connect the driver to the broker and take care of essential paperwork during the process. This is especially useful for owner-operators who must keep their truck moving in order to remain profitable. Dispatchers negotiate rates, deal with lumpers and detention pay and deal with many other details.
WHAT IS DOCUMENT SERVICE DISPATCHER
What is document service dispatch? This is an essential service within the overall logistics and supply chain. The document service dispatch provider deals with all of the important records and documents, which are kept during the dispatch service call. The paperwork offers proof of services rendered, and this makes it an important component of the overall system in which it operates. A good document service dispatch company will build relationships to ensure compliance and quality. This paperwork is critical for operating within the many regulations that govern the transport industries. It may vary from one type of operation to another.
Dispatch service trucking companies may elect to use the services of companies that provide document service dispatch. These are important points of contact that enable coordination of sensitive documents from the dispatch field service office. This makes it a specialized part of the overall process of dispatching. Many employees in departments dealing primarily with dispatch consumer services might not fully understand the procedures involved. They are unlikely to directly answer questions related to this topic, but they might be able to transfer the call to the appropriate department. This option usually resolves any problems internally.
WHAT IS PROCESS SERVICE DISPATCH
What is process service dispatch, and who provides this service? Process service dispatch refers to the in-person delivery of important legal documents, which can't be delivered any other way. The person who provides this service is the worker who was dispatched by the relevant company. Independent truck dispatch services can offer a different type of interaction than what's possible with larger corporations. This can also be the case when using dedicated dispatch services, which tend to offer a more personalized experience. Selecting the right provider is a matter of compatibility more than any other quality. The needs of the organization must be met by the provider in order to maintain good business relations.
Certain verification processes must be met to effectively conduct this type of dispatch. The customer must be able to trust the company providing this service. This trust may often come in the form of a professional referral, for example. The compliance requirements can be a rigid obstacle for companies just getting started in this business; however, earning trust ensures that the documents are handled properly and delivered correctly. Legal documents have a high degree of sensitivity, so the process service dispatch company must display their credentials to the public. This ensures that the customers are confident that the organization is credible and legally able to provide this service in compliance with the law.
WHAT IS SERVICE DISPATCH SOFTWARE
What is service dispatch software, and how is it helpful to facilitating the dispatch process? This software is specifically designed to allow rapid and accurate coordination of the vehicle with the customer. The software product can enable dispatchers to locate drivers and freight loads across large regions. Drivers who are close to the client's location are more likely to be dispatched first, for example. The software would be able to detect certain trends like this through the built-in features and options. This can be helpful for negotiating rates and terms of the contract. Software for dispatchers helps to improve the overall efficiency of the operations. It also has many other features that streamline the process and make it easier to get the work performed in a timely manner. This is important because deadlines are always an issue.
Dispatch software can create a seamless workflow that coordinates multiple moving parts within an organization. It often come with premium dispatch subscription services, which lowers the cost of doing business. Dispatch service trucking companies are responsible for coordinating the dispatch field service with the driver, or service provider, and the client. Multiple points of coordination require a tested solution that enables any truck load dispatch service to find the drivers that are available to haul those loads while also maintaining communication with the clients. The best truck dispatch service will combine the most relevant elements of each software product with a team that possesses the skills necessary to execute orders on a deadline.
WHAT IS SYSTEM SERVICE DISPATCHER
What is a system service dispatcher, and how does it affect the dispatching process? The system service dispatcher functions as a representative of an entire system, or network of companies. This is different from the similar services offered through independent truck dispatch services. Dedicated dispatch services can make use of a system service dispatcher to streamline these processes. This includes the negotiation of rates for delivering freight, for example. The system service dispatcher can offer a variety of tools to improve the overall experience of doing business. This includes streamlined processes, software automation of tasks and other methods.
Building trust is essential for developing strong working relationships. This fact is even more pertinent in the logistics industries, where small errors can cause big problems. Streamlining the dispatching process is a key to increasing the percentage of error-free transactions, and software can be used to coordinate large groups of people from different locations. However, these tools must be used properly to get the desired result. Using a streamlined service also helps to reduce the overall dispatch service cost. It creates a consistent experience across different departments or companies within any service network.
The best truck dispatch service will use proven methods, techniques, software and internal processes to provide the best value at a competitive cost. National dispatch services have the advantage of discounting their rates through the bulk volume performed through satellites. When selecting a dispatching company, consider the benefits and drawbacks of independent companies compared to large corporate chains. Gather as much information about the products and credentials of the servicing company to ensure that the organization is capable of demonstrating compliance. Quality assurance is often ascertained by reviewing previous client testimonials and public records.
FREE START WITH OUR TRUCK DISPATCH SERVICE
We offer FREE ONE-WEEK TRIAL of our truck accounting service to make sure we are the right fit for your trucking business.